Choose Tomorrow: The Tomorrow Plan Open House
August 2, 2012 @ 4:30 pm

-

7:00 pm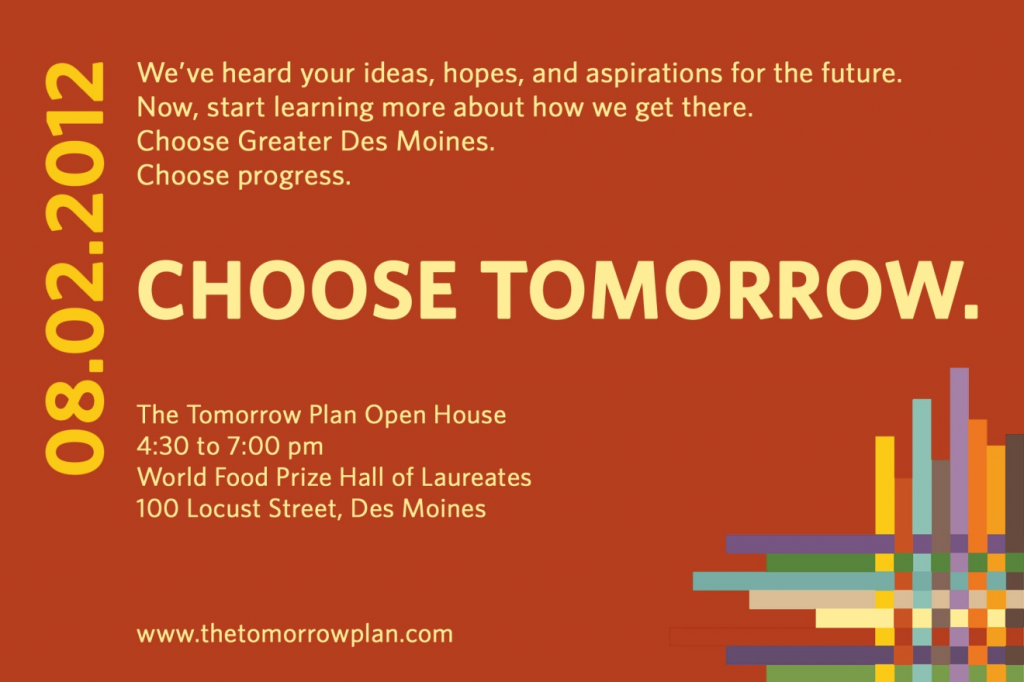 NEWS RELEASE
Choose Tomorrow – An Interactive Event for the Future
Featuring Urban Growth Expert Shelley Poticha
July 10, 2012 – Des Moines, Iowa
The Tomorrow Plan's first future fair – Choose Tomorrow – comes to the World Food Prize Hall of Laureates on Thursday, August 2 from 4:30-7:00 pm. This highly interactive opportunity to create a collective future for the metro features a 5:30 pm presentation by the U.S. Department of Housing and Urban Development's Shelley Poticha, Director of the Office of Sustainable Housing and Communities.
Poticha, a well-respected expert in urban policy, co-wrote The Next American Metropolis with Peter Calthorpe. She previously served as President and CEO of Reconnecting America and was Executive Director of the Congress for New Urbanism. An exceptionally dynamic presenter, she is globally recognized for her work in housing, transportation, and creating policies to support effective community growth.
The Fair will present results of the Design My DSM interactive tool, compare future scenarios for regional growth, and engage the public in hands-on ways to head toward a vibrant and lasting future for the metro. From bike generators and water tables to on-line job searching and principles for sustainability, the open house event should be engaging and important to the metro's future. The people of the Greater Metro area have helped to define a future for this region;now, the public can connect on how best to get there.
The Tomorrow Plan brings together all 17 cities and four counties of the Greater Des Moines metro along with a number of other public and private entities to map the path to a sustainable future for our region. The Des Moines Area Metropolitan Planning Organization secured initial funding of $2 million for this project through the federal Sustainable Communities Regional Planning Grant Program. Each and every citizen of the Greater Des Moines region should be involved in shaping the area's future. Please join us for this meaningful one-of-a-kind event on August 2!
###
For more information, please contact Bethany Wilcoxon (bwilcoxon@dmampo.org or 515.334.0075) at the Des Moines Area MPO.