The Tomorrow Plan brings together residents, elected leaders, the professional community, and civic groups in a conversation around how to best ensure the long-term health and vitality of the region.
Regional planning is about collaboration and coordination. It is an approach to planning and governance that aligns economic, social, and environmental issues in order to guide investments and provide for the long-term health of the region.
By planing regionally, The Tomorrow Plan will encourage local governments to coordinate future plans, share resources, and make best use of limited funding. this will ensure that:
Residents live in a region that is safe, healthy and sustainable
The region supports the growth of existing and future businesses
Sensitive natural resources are protected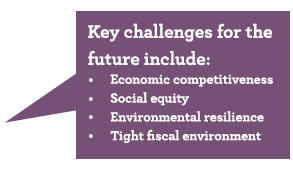 The past 20 years have seen a patchwork of growth in Greater Des Moines. New development has been located according to the needs of each municipality rather than the region as a whole.
The Tomorrow Plan presents an opportunity to coordinate anticipated change in the region. By 2035 the population of Greater Des Moines is expected to grow to 650,000 people—an increase of 35%
What are the outcomes?
The Tomorrow Plan will result in land use, policy, and implementation recommendations. Equally important, it will foster discussion and increased collaboration throughout the greater Des Moines region.
Specifically, the Tomorrow Plan will: