On a beautiful day in May, Alayna Schutte starts out teaching Pick a Better Snack lessons featuring local asparagus to third-graders at Carver and Moulton Elementary Schools. Next, she engages Moulton students at recess in watering the baby seedlings of spring snap peas, radishes, and spinach just starting to grow their true leaves. In the afternoon, Schutte meets her Garden Ninjas afterschool club at Child and Family Urban Movement to plant kale and onion transplants. All in a typical day's service for a FoodCorps member in Des Moines!
FoodCorps is a nationwide team of leaders that teaches kids about real food and how to grow up healthy. FoodCorps places leaders in limited-resource communities for a year of public service, where they conduct hands-on food and cooking education, build and tend school gardens, and help source fresh, local food to school cafeterias. This year, these 125 service members have reached over 100,000 children in 15 states.
Iowa is fortunate to have seven FoodCorps service members, two of whom are serving the Des Moines Public Schools under the supervision of the National Center for Appropriate Technology's Midwest Office. This past school year, the Des Moines-based service members helped create healthier school environments in six elementary and middle schools, and also supported a variety of other farm to school activities throughout the district.
At Hillis Elementary, FoodCorps Service Member Chelsea Krist closely collaborated with Principal Beth Sloan and a growing group of teachers to implement weekly "ECO Hour" lessons, where selected classrooms helped Krist prepare healthy tastings to share with the entire school. When the season allowed, taste tests incorporated fruits and vegetables the Hillis students helped grow, including roasted eggplant, crispy kale chips, and baked sweet potato fries. Krist saw first-hand how experience-based food education can quickly and dramatically change students' attitudes about eating healthy. When students helped prepare and taste test garlicky green beans during an ECO Hour last fall, excited school cafeteria staff reported that the next day, green beans – usually wasted in the cafeteria – had become so popular they ran out early.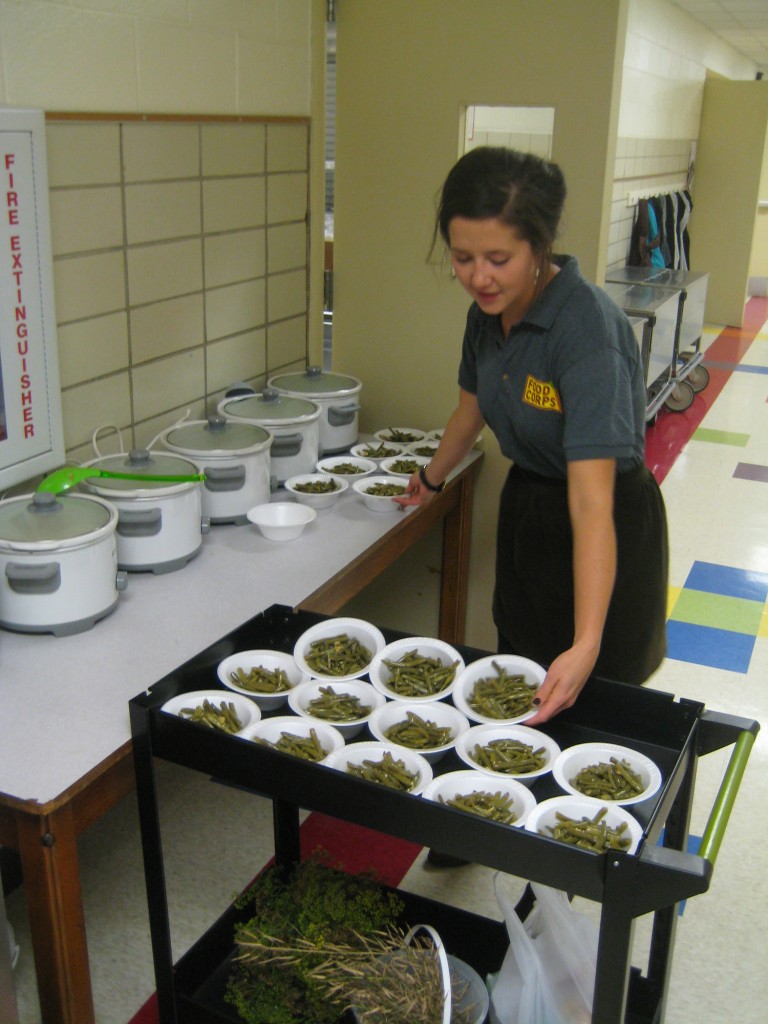 Plans are now under way to make ECO Hour better than ever and more integrated with the curriculum at Hillis. Next year, lessons will address food waste and composting, bring students into a new teaching kitchen to learn math and science concepts, and introduce biology lessons that feature the recently installed chicken coop in the schoolyard.
FoodCorps members are always looking for more helping hands, especially during the summer, when gardens are growing but there aren't as many students or teachers available. If you are interested in volunteering with FoodCorps, please email Marlie Wilson, Iowa FoodCorps Fellow, at marlie.wilson@foodcorps.org.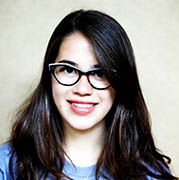 Marlie Wilson is the Iowa FoodCorps Fellow, helping with the administration of Iowa's FoodCorps program and supporting the seven FoodCorps service members stationed around the state. Before coming to Iowa for the fellowship, Marlie served as a FoodCorps member with The Food Project in Boston, MA, where she taught weekly gardening lessons for second and third graders in a 10,000 square foot greenhouse. She is excited to be continuing in her current state leadership role for another year here in Iowa!