Catalyst: an agent that provokes or speeds significant change or action.   
Many newly formed and established local small businesses are in survival mode.  Fierce competition, economic factors, and perceptions of limited capacity and capabilities are factors that limit the success and growth of many businesses.  By increasing the utilization of small businesses (including women, minority, disabled, and veteran-owned), we can make Central Iowa famous for successful and innovative businesses starting and growing here.  Our community will reap many benefits.
To accomplish this, we must create an environment for new small businesses to succeed and grow.  Here are some ideas:
Expand relationship building opportunities: Meet & Greets, networking, volunteering, and community involvement.
Minnesota DOT and Metropolitan Council in the Twin Cities are examples of agencies that go above and beyond to help their certified small businesses meet with prime contractors on an annual and project basis by hosting Meet & Greets.
Develop or strengthen programs to increase utilization of small businesses for both prime and sub-contracting roles.  Ensure that these programs have a tracking and compliance component for accountability.
City of Davenport encourages prime contractors to solicit small businesses for sub-contracting opportunities on both construction and design projects. They track and report these efforts.
Increase access to capital.
Be receptive to engaging or partnering with new or young businesses.
Continue to diversify and expand small business resources and leadership development opportunities.
Acknowledge accomplishments and recognize our local talent.
The Tomorrow Plan presents a great opportunity to assess how we can utilize our community's resources to improve Central Iowa's standard of living.  Local small businesses are a vital resource.  By embracing and engaging our local talent and small businesses, we will see a rippling effect on the community.
Local jobs will be created
Attract more young professionals
Businesses and employees will put money back into the community
Increased tax income available to local governments and schools
Increased capabilities, expertise, and services offered locally to our communities
With or without a working plan or initiative in place, small businesses will be a catalyst for the shift to a more sustainable region.  So small businesses – continue to knock on doors, implement your growth plans, and perform above and beyond to make your clients happy.  Your efforts will pay off.  And to our community leaders, consider using The Tomorrow Plan as an opportunity to assess how you might improve the utilization of our local talent and small businesses.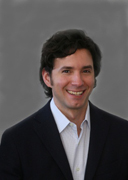 Luis Leon, P.E.
is a civil engineer and owner of LT Leon Associates. 
LT Leon
, based in Des Moines, is a small business that provides engineering and land conservation services with a focus on water resources and sustainable stormwater management.