Right now, as I type, teams of undergraduate architecture and landscape architecture students at the University of Nebraska – Lincoln (UNL) are creating elements of potential new futures for the City of Des Moines.
UNL students visit Boston
While this student work is at the city and neighborhood scale, rather than the regional scale like The Tomorrow Plan, both the studio and the plan are taking a 'systems-thinking' approach to analysis and design. It is not surprising that the themes of the ongoing student work echo much of the conversation happening through The Tomorrow Plan. Studio themes are:
Strong, Productive Neighborhoods
Three teams are focused on strengthening Des Moines' nearside urban neighborhoods. Interestingly, all three projects see great potential in open space strategies as key to neighborhood revitalization. Strategies include multi-functional open space systems that layer recreation, industry, ecology and food production in new and unexpected ways.
A Diverse Downtown Experience
Another three teams are exploring means of enhancing the vitality of Downtown Des Moines. Each project posits diversity of experience and connectivity as key to a healthy, vibrant urban core – whether through creating a physical framework for incubating new forms of industry downtown, re-imagining the city's skywalks as an expansive and integrated open space system, or making new programmatic connections between the downtown destinations.
A River Embraced
Two more teams are re-examining the connections between forms of urban development, the floodplain and the Des Moines River. One team is imagining a new type of neighborhood development in the floodplain – one that embraces flood dynamics in both open space strategy and building form. Another is seeking programmatic connections between the floodplain's greenway program and adjacent development.
The University of Nebraska – Lincoln students will be spending the rest of their semester testing options and further exploring these ideas, just as the Greater Des Moines community will be looking at possible scenarios for the future in the next steps of The Tomorrow Plan.  Click here (22MB, PDF) to view the student work, and reply below to let us know what you think of their ideas.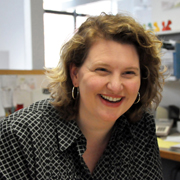 Gina Ford is a landscape architect with extensive experience – from flood recovery to streetscape improvements – in a number of Midwest communities. She is a Principal at Sasaki Associates and a member of The Tomorrow Plan's project team. This spring she is also serving as the Hyde Chair of Excellence at the University of Nebraska at Lincoln, where she is co-teaching a design studio on the City of Des Moines with Assistant Professor of Architecture David Karle.