The Iowa Natural Heritage Foundation (INHF) is developing "Iowa by Trail," an all-Iowa multiuse trail App and website. Once completed, the App will promote Iowa Trails and help America discover the beauty of Iowa's greenways. The App will feature an interactive map to allow users to geo locate their position and find the closest trail, find points of interest along the way, keep track of distance, weather, news and events, and communicate with friends and followers about their experience. The App will also help connect trail users to the communities they are visiting by locating attractions and services along their route, like local restaurants, museums and natural resource information.
INHF is working with the Greater Des Moines Partnership, the Des Moines Area Metropolitan Planning Organization, the City of West Des Moines, and other private partners to raise the funds necessary to produce the App and website. To complete the project, the INHF needs to raise an additional $59,000. Now through the end of RAGBRAI (July 27, 2013), a private donor has agreed to match donations up to $15,000. You can help make the "Iowa by Trail" App a reality by contributing today. Visit https://donatenow.networkforgood.org/trailsapp.
"When you're on a trail, you inherently understand the connection between communities, natural resources and the economy," explains Hannah Inman, INHF communications director. "This app takes that one step farther. It allows for a business to communicate with a new visitor that's passing through, or for a town to showcase its unique treasures. It allows someone to stop to take a look at a stream and understand its connection to our drinking water. This is something that no one else in the country has at a statewide level. It showcases what makes Iowa special."
"Making Central Iowa the hub of the Trails Capital of the World is a top goal of the Capital Crossroads regional vision plan," said Jay Byers, CEO of the Greater Des Moines Partnership. "This new, innovative App is a critical step forward in marketing and promoting our growing network of nearly 700 of interconnected trails."
The App will accomplish a vision plan objective of "connecting communities, attracting tourism, promoting economic development, and complimenting the missions of the Metropolitan Planning Organization and the Central Iowa Bike-Pedestrian Roundtable." Capital Crossroads: A Vision Plan for Greater Des Moines and Central Iowa supports the development, maintenance, and promotion of the Central Iowa Trails Network as a strategy towards Greater Des Moines becoming the hub of this world class commuter and recreational trails system. Shift Interactive, an Iowa-based company, designed and is developing both tools.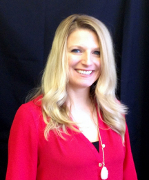 Hannah Inman
is the Director of Communications at the Iowa Natural Heritage Foundation. She also hosts a web cast show that covers home and garden issues from a decidedly pink perspective.