It is the long history of humankind . . . those who learned to collaborate and improvise most effectively have prevailed.  ~Charles Darwin
One of the underappreciated aspirations of The Tomorrow Plan is that local governments will collaborate. One reason to start appreciating this aspiration is that collaboration is an essential component of the Plan.  Achieving the full potential of the Plan's policies will be possible only if the seventeen individual local governments geographically encompassed in the Plan join together to collectively adopt a regional strategy.
And yet, economic and legal forces have traditionally resulted in competition among local governments for social benefits, economic opportunities, and even environmental amenities. For decades, prevailing parochial policies have tended to promote local isolationism and competition. We still see the remnants of fierce competition in local policies ranging from land use to incentivizing businesses that have deleterious consequences for the public.
Competition, however, is not the only option. Local governments often choose to consult and collaborate (within the confines of state law) on a variety of issues. Collaboration on implementing the Plan's strategies could greatly benefit the citizens of central Iowa. Take, for example, the Minneapolis regional Metropolitan Council.  Since 1971, the Minneapolis region has had a tax base sharing program in which each local government contributes "40 percent of the growth in commercial-industrial (CI) property tax base into an area-wide shared pool. Shared tax base is then redistributed back to jurisdictions – reducing fiscal disparities." The tax base sharing program reduces competition among local governments and provides an opportunity for the region to jointly market itself to businesses. Instead of a race to the bottom, where each local government tries to undercut the other, local governments collaborate and reduce competition to the benefit of all.
Our local governments should build on the collaborations already in motion. 18 cities participate in the Metro Advisory Council (MAC) that meets each month to discuss areas of cooperation. BRAVO is a collaborative of 15 local municipalities that have come together to support arts and culture and serves as a mechanism to improve the quality of life and livability of our region. Similarly, the Greater Des Moines Partnership actively markets our region as a whole to encourage businesses to relocate here. The Partnership and Drake Law School have also formed a joint program where, in conjunction with local officials, Drake Law students are drafting model local legislation concerning issues relevant to sustainability.
Of course, local governments have their own desires and needs, and should, for a variety of reasons (many set forth by Alexis de Tocqueville in "Democracy in America"), maintain their sovereignty. But there is a big difference between adhering to the important democratic principles promoted by local governance and fostering unhealthy competition among local governments to the long-term detriment of the region.
Waiting for a state or federal government initiative to improve the region is a poor and uncertain strategy.  A more productive approach would recognize that our local governments are empowered to go forward in consultation and collaboration for a better, stronger region. Moreover, the lofty but necessary goals identified in The Tomorrow Plan suggest that many, if not most, of our regional jurisdictional boundaries are outdated and irrelevant. Securing our well-being suggests it does not matter whether one lives just south or just north of Hickman Road in Clive or Urbandale, respectively; or just east or just west of S 1st / SW 63rd Street in Des Moines or West Des Moines, respectively. A more robust regional economy and environment will benefit all of us.  Politicians must be willing to put aside local short-term gains to achieve long-term (and larger) regional gains. This is what we truly need for the region and state to preserve what is left of our degraded natural resources and to compete economically in the 21st century.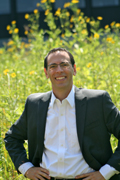 Jonathan Rosenbloom
is an associate professor of law at Drake University Law School, teaching courses in sustainability, state & local government, and property.