Leaders of Capital Crossroads five-year regional vision plan have developed an inter-generational mentorship program as part of the Social Capital component of the plan. Community Connect: Mentors Inspiring Success sustains and expands leadership throughout the region by inspiring future leaders and givers through meaningful and creative mentoring connections.
"This is an incredible opportunity to bring a diverse group of individuals together. New connections and relationships will evolve and grow organically throughout this unique program," says Megan Ruble, chair of the Community Connect: Mentors Inspiring Success committee.
The mentorship program is designed to connect participants from all generations to our community's more experienced leaders. This program creates meaningful personal connections and peer mentoring opportunities in a small group setting that ensures personal interactions with mentors in our community.
Community Mentor Phil Hodgin says, "We have a highly-motivated and engaged group of next generation community leaders in Greater Des Moines. This is a fantastic opportunity to develop a community of mentoring relationships that is unmatched in the country.  I am incredibly excited to be part of this new program and help develop relationships that purposefully advance our community's up-and-coming leaders and givers."
The thirty participants selected for the five-month program will be announced in January. Community Connect: Mentors Inspiring Success is funded by the Community Foundation of Greater Des Moines. Learn more about the program, sessions and mentors.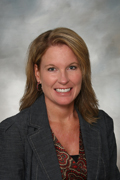 Kristi Knous
, Community Foundation President & COO,  provides the vision and leadership for shaping the organizations's role as a civic leader, grantmaker, philanthropic partner and charitable giving vehicle. She identifies and addresses issues key to the quality of life in the community and oversees the Community Foundation's daily operations. Kristi received her MPA from Drake University.