As you find yourself jetting off to exotic (and not-so-exotic) locales this summer, take a second to put your vacation to work for our community.  Instead of just snapping a few pictures, see if you can snag a few ideas for community features that could spice things up in Greater Des Moines.  Maybe your favorite vacation spot has a great neighborhood or an amazing park.  Could those things inspire a project back here at home?  What's that you say?  Downtown Boise has a full-time rodeo clown wandering the streets?  Hmmm…..maybe that could fly in Urbandale…
While we've certainly got plenty of our own home-grown ideas right here in Central Iowa, other places have figured out a thing or two as well, so why not share the love?  The Tomorrow Plan is gathering ideas on how to make Greater Des Moines a more vibrant place, and those ideas can come from anywhere.
In my own recent travels, I've caught a few glimmers of inspiration, and I'll share a few of those here.  While most of these aren't brand new ideas for the Des Moines region, they've been implemented in unique ways that can inspire our own work back home.
Can you spot the parking garage?  A stealth parking garage in Asheville, North Carolina features a rock climbing wall, awnings and trees to turn a traditional eye-sore into a community asset.  I sat across the street eating lunch for half an hour before I realized what it was.
The 5.5 mile Midtown greenway cuts through a neighborhood where I stayed earlier this summer in Minneapolis, reminding me of some of our popular trails back home.  The greenway is the result of a successful public/private partnership: a grassroots organization advocated for its installation and continues to support its improvement, while the city maintains the trails.
An abandoned elevated train track has been transformed into a park in NYC.  This got me wondering: what unused or underused assets does our region have that could be reborn as a valuable amenity?
An artistic (and accessible) water feature in front of the Lexington, Kentucky courthouse livens up a public plaza.  I'm always amazed at what water can do to transform a public space.
Anyone visiting the Des Moines metro this summer is bound to walk away pondering a few of our more successful ventures ("Wow, that is some butter cow!  And how about that 10-minute commute, low cost of living, and great school district?  We need to import that back to San Francisco STAT.")  Let's even the score by using our summer adventures to import a few good ideas that can inspire our work at home.  Unlike that giant cactus statue you snagged on the streets of Acapulco, all ideas are duty-free.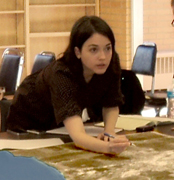 Lorin Ditzler
is an urban planner for RDG Planning & Design in Des Moines.