Of all the things that go into creating a sustainable metropolitan area, this much we know: public transit is a vital ingredient.
Public transit makes it possible to get around for people without cars, whether they can't drive for physical reasons, their age, or simply chose not to own a vehicle. And if more drivers choose to ride the bus, there are that many fewer cars on the roads – increasing capacity without having to build more new roadways. In addition, cities with reliable public transit are that much more affordable to live in, because you don't have to rely on cars nearly as much.
That's why it was so important for the Des Moines Area Regional Transit Authority (DART) to develop a vision for expanding public transit throughout Greater Des Moines. This vision, called the DART Forward 2035 Services Plan, calls for more service, to more places, at more times of the day, and with faster travel times.
Highlights of the DART Forward 2035 Services Plan include:
More frequent service in urban core;
Better commuter service, including more "reverse commutes" to take residents from downtown to suburban jobs;
New circulator routes serving major suburbs;
More Park and Rides;
Extend the route of the D-Line Downtown Shuttle back up to the Capitol;
New cross-town routes so people can travel from one side of the metro to the other without having to transfer downtown;
Additional transfer locations to give people more options for making their trips by bus.
The DART Forward 2035 Services Plan is ambitious, but it has years of momentum behind it. In 2004, the Iowa Legislature passed legislation allowing for the creation of regional transit authorities. Then in 2006, regional leaders created DART out of the former Metropolitan Transit Authority (MTA). All along, the goal has been to build a truly regional transit system.
The DART Commission adopted the DART Forward 2035 Services Plan in September 2011, after more than a year of study by DART staff and outside transit experts. Now with a "blueprint" in hand, DART will begin implementing the service improvements in 2012, with a 13 percent expansion of service in the first year alone.
This year will also see the completion of DART Central Station, a new transit center in downtown Des Moines that will replace the aging and dated Walnut Street Transit Mall. The new station will feature indoor waiting areas, a customer service desk, public restrooms, bicycle storage, a café or coffee shop, public meeting rooms, 15 bus bays with canopies covering all walkways, and more.
Last but not least, DART is soon to launch a new online trip planner. Planning a trip by bus will be as simple as going to DART's website and entering your origin and destination; the trip planner will automatically give you directions to take the trip by bus. In addition, DART is implementing GPS technology on its fleet of buses, meaning customers will not only be able to plan their trips online, they'll be able to see precisely when the next bus will be to their stop.
In short, the transit system of Greater Des Moines' future is rapidly taking shape. We hope all of our loyal DART riders like the changes they see. If you're not already using the transit system, we hope you will take another look at riding the new and improved DART.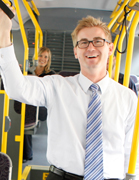 Gunnar Olson
is the Public Information Officer at DART. He can be reached at golson@ridedart.com.