On the first of September, I began participating in the 30 Day Rewild Your Life challenge sponsored by We Are Wildness, a website dedicated to the awareness of human wildness and our important connection to Nature. The challenge is to spend at least 30 minutes in a natural setting every day this month.
I am taking the concept one step further, by challenging myself to visit the many unique outdoor opportunities in Central Iowa and beyond, including both old favorite as well as new locations.
25 of the 30 days of September will be spent right here in Central Iowa; the only exception will be a 5-day vacation to South Dakota, Wyoming, and Nebraska in the middle of the month, which will allow me the opportunity to both compare and contrast the landscapes and amenities found in these places to those of Iowa.
Of course, good photographs are also a goal of this challenge, and so I have established this blog as a way of sharing those photos and stories of my rewilding experiences.
I invite you to follow this blog and see the many opportunities that Central Iowa has to offer!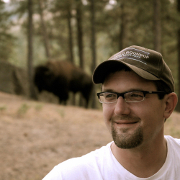 Ryan Ellsworth
is a native Iowan with a deep love for the natural & cultural history of the state, and the Great Plains at large. He has brought his passion for local sensitivities to his work as an architect. Ryan is also an avid amateur photographer, a hobby which he has enjoyed showcasing in his Rewild Blog.