Sixty years ago the shopping mall emerged as an American institution.  Since then, in various permutations, it has become a component of nearly every community in the country.  Its form has changed in response to retail and population trends – think lifestyle centers instead of enclosed complexes – and also in response to the economic context.
But what happens to malls when they reach the limits of their first incarnation?  Joel Kotkin, a professor of urban development and author, suggests the following:
"Essentially malls can be repositioned into what a community needs. They have the advantages of an already existing infrastructure and usually are located on major transportation routes. The key thing is not to let them stay underused or fallow for too long. They should be regarded as a potential asset, much as you would look at well-located unimproved land, or a deserted warehouse or office district in a city center."
In Des Moines, plans for the Southridge Mall revitalization include converting some space into an indoor athletic complex as well as redevelopment to introduce open-air store fronts, a pedestrian plaza, and free-standing commercial properties.  Conceptual plans envision a thriving mixed-use district that is connected to DART transit lines and serves pedestrians while also providing convenient car access.
Malls around the country have successfully undergone similar transformations to town centers or mixed-use districts.  Belmar in Colorado is a widely-cited example that mixes retail with office and residential space and also provides community amenities such as an events center.
New streets and public spaces at Belmar are host to a weekend festival.  Photo source
Randhurst Mall in Mount Prospect, Illinois was once the largest enclosed mall in the country.  It even had its own Cold War era bomb shelter.  Now, the bomb shelter has been converted to underground parking for a new hotel and the shopping center has been revamped to a main street-style format with diagonal parking adjacent to storefronts and outdoor public spaces.
Outdoor seating at Randhurst Village, the redevelopment of Randhurst Mall.  Photo source
Around the country, malls have been converted to schools, churches, fitness centers, flea markets, apartments, medical centers and more. Thoughtful redesign and reprogramming has positively impacted their social, economic, and environmental sustainability:
A diversity of uses means fewer car trips for customers who want access to shopping, restaurants, offices, and amenities
The addition of day cares, schools, event centers, and other amenities help build a stronger sense of place, community, and identity
Green building practices and site design can help improve water quality, reduce emissions, and reduce energy needs; reusing an existing structure typically generates less waste than new construction
Malls can be reimagined any number of ways, and successful visions depend heavily on the existing context and needs of the community.  What are your ideas for repurposing underutilized shopping malls?  Add your comments below or join the discussion on MindMixer.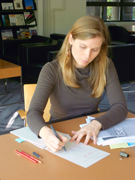 Hope Stege
is an urban planner with experience in community and public-sector projects. She works at Sasaki Associates where she is a member of The Tomorrow Plan's project team.