A public forum featuring two of Iowa's foremost tree experts will be held from 6:30 to 8:30 p.m. on Wednesday, August 28, in the Waveland Hall at Plymouth Congregational Church, 4126 Ingersoll Ave.
The forum—entitled The Tree Doctors Are In— will be hosted by Tree Des Moines, a volunteer-driven non-profit organization dedicated to protecting and expanding the urban tree canopy. Tivon Feeley, The Iowa Department of Natural Resources' Forest Health Program leader, and Ralph Connor, a board certified master arborist with more than 50 years of experience, are the forum's featured speakers.
Attendees will get the latest information on some of today's biggest challenges to tree health, such as Emerald Ash Borer, Bur Oak Blight, Oak Wilt, and other threats to the urban forest. Samples can be brought so attendees can get expert input and advice. Information will also be provided on a range of tree law issues, including your rights and responsibilities as a property owner.
Refreshments and literature will be available. Attendees are encouraged to make a $5 donation to support forestry education initiatives in Des Moines. For more information, visit www.treedesmoines.com.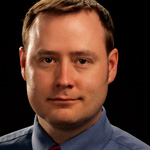 Jason Pulliam
is a lifelong Iowan who currently resides in northwest Des Moines. In addition to serving on the Tree Des Moines Board of Directors, Jason is active in the Merle Hay Neighborhood Association. Jason currently works for the State of Iowa. He is a graduate of The University of Iowa, where he earned degrees in Journalism and Mass Communication and Sociology.