This is a watershed year for the Des Moines Area Regional Transit Authority (DART). The new DART Central Station opened up in downtown Des Moines this month at the same time that a redesigned bus network was implemented for the region, including a 13 percent increase in service. Moreover, DART is on the verge of launching technology tools, including an online trip planner and an automatic vehicle location system.
For riders, it's going to feel like DART "grew up" overnight.
The old transit mall
For decades, the primary transfer point for the transit system has been the Walnut Street Transit Mall in downtown Des Moines.
Though it has served its purpose over the years, the transit mall also presented its share of challenges. Because Walnut is a two-way street, it was nearly impossible for one bus to pass another, meaning a delay on one bus triggered a delay on all of the buses. Pedestrian traffic was also difficult to manage, due to a lack of barriers to prevent jaywalking and no staff to assist operators in monitoring pedestrians.
The transit mall was also lacking in amenities for customers. There were a few shelters to shield riders from wind and rain, but that was about it.
The new DART Central Station
That all changes this month with the opening of DART Central Station at 620 Cherry Street. For the first time, riders will have public restrooms, indoor waiting areas, real-time departure information, bicycle storage and a customer service desk where they can talk to a DART representative and buy bus passes. Customers will have more access to DART's services than ever before.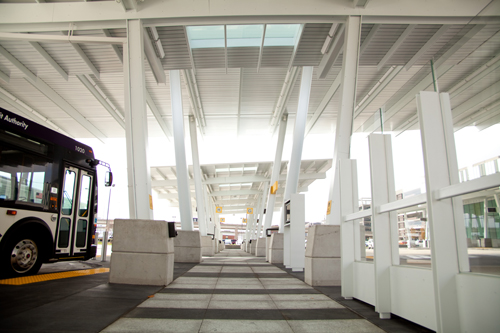 The new DART Central Station at 620 Cherry Street.
One of the top priorities in the design of the facility was the safety and security of everyone who uses it. The bus platforms are designed to keep bus and pedestrian traffic as separate as possible. There will also be a police and security presence on site around the clock, and the entire facility will be under video surveillance. In addition, a security phone with direct dial to the Des Moines Police Department is located on the bus platforms.
The station improves the working environment for DART operators as well. Operators were left to fend for themselves during layovers on the Walnut Street Transit Mall, but they'll have access to restrooms and a break room at DART Central Station.
The station is designed to receive a Leadership in Energy and Environmental Design (LEED) designation of Gold or better from the U.S. Green Building Council. Rainwater will be collected and stored on site for flushing toilets and washing the bus platforms. Photovoltaic cells incorporated into the canopy and roof will help power the facility. More than 70 geothermal wells underneath the site will help heat and cool the station.
The new $21 million facility was made possible through a combination of state and federal funding, including a $4 million I-JOBS grant from the state of Iowa, a $6.5 million Bus and Bus Facilities Livability grant from the Federal Transit Administration and a $10 million TIGER II grant from the U.S. Department of Transportation.
Better Service
Most noticeable to riders are the improvements to service. DART recently completed 18 months of studying the transit needs in Greater Des Moines, resulting in the adoption of a long-range plan called DART Forward 2035.
The plan is being put into action this year, with service levels increasing by 13 percent over last year. DART is now offering new services in the suburbs, more frequent service in the urban core and several adjustments to routing.
Notable among the improvements is a new crosstown Route 52. This high-speed service connects downtown to two major shopping and employment destinations in West Des Moines: Valley West Mall and Jordan Creek Town Center. A bus trip from downtown to Jordan Creek will now take about 30 minutes, compared with more than 60 minutes on the old system.
Another noteworthy improvement is the new Route 60. This route operates in a loop in both directions on University and Ingersoll avenues between 42nd Street and downtown Des Moines. Though the base route is starting this month, it has also been identified as the first possible bus rapid transit line in Greater Des Moines. It is planned to be developed into train-like service, with stations on the streets with real-time departure signs, separately branded hybrid vehicles, and technologies giving the vehicles priority through key intersections.
Better Technology
Last but not least, DART is implementing several technologies in 2013. An online trip planner will give riders a superior tool for planning trips by transit. An automatic vehicle location system on the buses will allow DART to provide real-time information to riders digitally on their Internet browsers and smartphones, as well as verbally through an interactive voice response phone line. Riders will also be able to receive email alerts when their bus is approaching their stop.
The metamorphosis of DART began in 2006, when DART was created out of a metropolitan transit authority to become the state's first regional transit authority. Several changes have been made in DART's first six years, and the improvements won't stop here. But few years in DART's history, past or future, will compare to the sea change of 2012.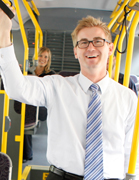 Gunnar Olson
is the Public Information Officer of the Des Moines Area Regional Transit Authority, or DART. This text originally appeared in a special advertising section of the Des Moines Business Record.