A primary goal of The Tomorrow Plan is supporting alternatives to single occupancy cars in the metro region. Walking and bicycling are transportation alternatives that provides multiple benefits: personal fitness and health; saves money; avoids fossil fuels, air emissions, and toxic chemicals on our streets and parking lots; and, provides opportunities to experience the local environment and other people – and deserve public support.
The metro region has the most extensive trail network in the state. In the past several years, Des Moines and West Des Moines have been implementing bicycle master plans that include bike lanes and routes, providing safer alternatives for bicycle transportation and making it possible for residents to ride from where we live to where we want to go. The number of cyclists is rapidly increasing, including bicycle commuting, errands, recreation, and fitness. The DART bicycle racks have been a huge success and, coupled with the B-Cycle bike-sharing program, provide a way to combine cycling with bus transit to better serve commuters.
These are all examples of the "Complete Streets" concept. Complete Streets are streets for everyone. They are designed and operated to enable safe access for all users. Pedestrians, bicyclists, motorists, and public transportation users of all ages and abilities are able to safely move along and across a complete street. Complete Streets make it easy to cross the street, walk to shops, and bicycle to work. They allow buses to run on time and make it safe for people to walk to transit hubs.
2012 was the 10th anniversary of Bike to Work Day in Des Moines, growing to a full month of cycling activities and events during May the past three years. The Des Moines Bicycle Collective provides a number of resources and services that support cycling and cyclists, including valet bike parking at the Downtown Farmers' Market, 80-35, and other large public events; affordable bikes, parts, and accessories; training in bicycle repair and maintenance; access to tools and equipment; annual updating and printing of metro trails map; annual Bike Month in May; and annual recognition of Bicycle Advocate, Commuter, and Volunteers of the Year.
The number of bicycle races, rides, and recreational events has also expanded, as well as new vendors such as Ichibike and Beaverdale Bicycles that support an increasingly diverse range of personal taste and style in bicycle design and accessories. A central value of New Belgium Brewing Company is sustainability, and New Belgium is known for promoting unique bicycle events around the country. It's significant that New Belgium loves Des Moines because of the incredible participation and spirit here. Sunday, August 12th saw 1,200 people participating in the 3rd Annual Urban Assault Challenge.
In short, a number of ingredients have combined to create world-class amenities for cycling in the metro region that are helping serve long-time residents of all ages, while attracting the high quality, diverse work force that our major employers need. However, like any other public infrastructure and service, bicycle trails and especially adding routes and lanes to arterial streets need public support, especially during the current fiscal challenges to city and county budgets.
The metro region has an excellent transportation system for cars and trucks that will serve us well for years to come. We need to continue development of Complete Streets accessible to all and transportation alternatives including bicycling.
It's true that sometimes we don't know what we have until it's gone. If you like being able to walk to work or do your errands, and like your bike and want to continue the gains we have made to provide safe, economical, and fun walking and cycling in Des Moines, speak up. It won't last or continue without your participation and support.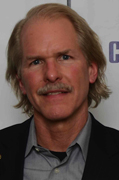 Kent Newman
is a founding board member of the Des Moines Bicycle Collective and Iowa Rivers Revival who serves as executive director of the Center on Sustainable Communities (COSC) in Des Moines. He purchased a home in the Union Park Neighborhood due to proximity to the Neale Smith Trail, Union Park, and Des Moines River. COSC received the 2012 Commuter Challenge Award for companies under 4 employees during Bike Month in May.