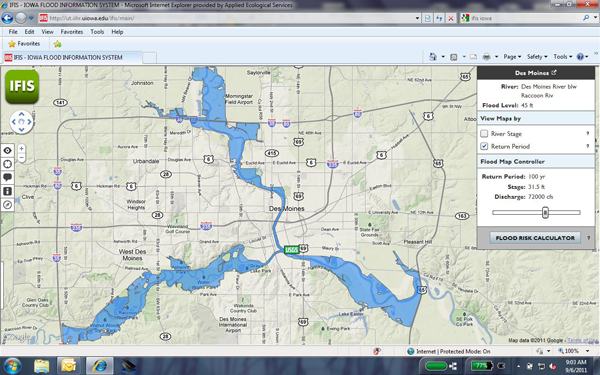 Are we afraid of the future? For sure, the economy's got us all worried. But I'm talking about being just a little nervous about what's going on with the weather. How much snow is going to fall this winter and what will happen when it melts? Will it be a wet spring? I know readers are a step ahead of me and thinking…flood [1]. This is what I mean when I wonder, are we afraid of the future, because we don't know what's going to happen and we can't control it?
I learned recently that the cost of Iowa's 2008 flood was 8-10 billion dollars[2]. Put this in perspective:Iowa's gross domestic product was 135 billion dollars in 2008, so the floods cost about 6-8 percent of Iowa's annual economic output. Maybe that's not such a big deal and we can absorb it every couple of years. On the other hand, it is a huge deal to people who endured the floods. Maybe together we can absorb the economic costs, but what individual wants to deal with the emotional ones?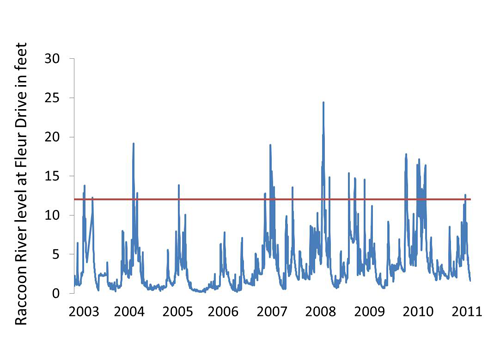 Red line represents flood level.
The Army Corps of Engineers[3] and Dr. Eugene Takle[4] of Iowa State have told us that big floods are happening a little more often, more rain is falling, and more of that rain comes in bigger storms. You can see that in monthly precipitation data from the Des Moines Airport and in water level data from the Raccoon River. But as an ecologist, I wonder more about how the condition of the land affects flooding than the problem of more rain. Quoting Charles Ellet, an engineer who studied this question for the Mississippi in the 1850s: "The water is supplied by nature, but its height is increased by man."
What does that mean? Ellet was talking about levees raising the river level, but he could have been talking about how much more rain runs off streets, rooftops, and tiled cropland than off land in a natural state, as illustrated in this figure.
For city people, the issue is connected impervious cover (CIC)—a big phrase for a simple idea—rain falls on a rooftop, flows through gutters and pipes to a parking lot, which drains to the street and a storm sewer inlet, then falls directly out of a storm sewer outlet into a creek or river. The flow path from where a raindrop lands to where it ends up is all connected. Once you hit 10% CIC, you can expect your stream to start changing. Get to 20% CIC, and the stream shifts to a new condition—eroding bed and banks, lots of sediment, and a simpler community of fish and aquatic insects[5].
Everybody complains about the weather, but nobody does anything about it. It's driven by what happens ten thousand miles away, making it hard to see what can be done locally. I can accept that—but what about the condition of the land? Ecologists complain about it, but people can do something about it. For any situation, there's an answer, and it's written down in any number of books, scientific publications and the like. There's a whole Iowa manual on how to build streets, houses, and towns without turning up the volume on runoff[6]. The Tomorrow Plan will build on these ideas and also find new strategies to turn ideas into action.
It's as if we've got two handles controlling how much water is pouring out of the faucet—one is rainfall, and it's slowly ratcheting up. The other is land cover, condition or use, and we can increase or decrease the flow off the land, depending on which way we turn the handle.
This gets me thinking about another topic: who pays? Should communities lower down in the watershed pay to repair a trail that's falling into their creek? Or should communities uphill who have turned up the runoff volume through needed development pay to make the repairs? What about farmers who put underground drains ("tiles") in cropland to maintain good yields—which only makes sense for their families and crops. Should they pay for the extra water hurting people downstream? Or should people downstream pay the farmer to hold back or clean up water, as is being done in some places[7]?
For the answer, tune in a few years from now when this conversation reaches maturity. For now please ponder this: rather than just let the environment happen to us, we can do things to land cover that cushions the blow—and that will let us worry a little less about the future as far as the weather goes. As for the economy…well, that's a different kettle of fish.
For more, read A Watershed Year: Anatomy of the Iowa Floods of 2008 edited by Cornelia Mutel.
---
[1] Iowa Flood Information System http://ut.iihr.uiowa.edu/ifis/main
[2] http://www.rio.iowa.gov/resources/reports/2011.04_RIO_Quarterly_Report.pdf
[3] http://www.mvr.usace.army.mil/PublicAffairsOffice/DMRRFFS/DMRRFFS-FinalReport.pdf
[4] http://climate.engineering.iastate.edu/Document/Climate_Changes_for_Iowa_12.pdf
[5] Center for Watershed Protection http://clear.uconn.edu/projects/tmdl/library/papers/Schueler_2003.pdf
[6] http://www.intrans.iastate.edu/pubs/stormwater/index.cfm
[7] http://www.ctic.purdue.edu/resourcedisplay/337 and http://www.ctic.purdue.edu/resourcedisplay/365
---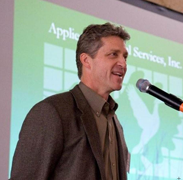 Kim Chapman is an ecologist with national experience in ecological research, ecosystem restoration and management. He brings ecology and science to regional, municipal and site-level design and planning projects. He is a principal ecologist with Applied Ecological Services and the lead scientist for The Tomorrow Plan.