I'm writing to invite you to attend an upcoming conference, "Road Map to Resilience: Empowering Iowa's Local Food Economy," sponsored jointly by the Leopold Center for Sustainable Agriculture and Iowa State University Extension and Outreach.
Forging partnerships with organizations that help shape Iowa's food systems is a vital goal of the conference. This is a great opportunity to get involved in what we hope will be the foundational discussion of a statewide campaign to empower Iowa's local food economy, hear some fascinating stories, and share a few of your own.
The conference will take place March 19-20, 2013, at the ISU Scheman Building in Ames, Iowa.
Food impacts everyone, and we hope to have many voices at the table. Attendees will have a chance to learn the latest in businesses management, what is happening with food incentive programs like Farm to School, and how we can assist beginning farmers who want to grow food, as well as network with others and share their ideas and experiences in breakout sessions.
I'd like to highlight a unique feature of the conference. A dozen "storytellers" from all over Iowa and representing many different aspects of the local food system will share their insights from successful projects. Their success stories range from creating local food co-ops, encouraging beginning and minority farmers, facilitating food networks, connecting farms to schools and much more.
These storytellers provide yet another resource for conference attendees who are engaged in similar projects or excited to become more involved in Iowa's food system.
Nationally recognized experts will lead the breakout sessions: Anupama Joshi, National Farm to School Network; Diana Endicott, Good Natured Family Farms; and Susan Futrell, Red Tomato. Our keynote speaker is John O'Sullivan, who played a key role in the North Carolina 10% Campaign.
I hope a representative from your organization will attend. We have vendor tables available if you would like to increase your presence.  Don't hesitate to contact me with any questions. You can find more details and register online here.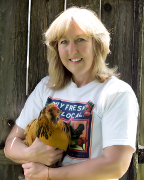 Lynn Heuss
is the assistant coordinator of the statewide Local Food and Farm Initiative (LFFI) program. She also works with the Regional Food Systems Working Group, a coalition of 17 different local food organizations working throughout the state, and the Iowa Food Systems Working Group, educators and specialists with Iowa State University Extension who are developing programs and resources. In 2003, she started Connection Cafe that offers free meals and other resources in downtown Des Moines five times a week.