I remember attending my first Big Hair Ball in 2009. I had just moved back from New York City, hoping to catch some wind that would float me out of state again. At that time, I knew the Big Hair Ball simply as the best party in Des Moines. Coming back from working as a hairstylist in Manhattan, I was amazed to find so many talented salons and an event that showcased their unusual art. My journey led me away and back again and in that moment I could not have been more awe-struck.
The Des Moines Art Center Big Hair Ball first shocked the city in 2004. This Saturday (June 1, 2013), the 6th installation of the biennial event will take place at the Des Moines Art Center. Over 700 guests will fill the courtyard, art museum, and lobby of the most beautiful buildings in Des Moines.
Hairstylists will create gravity-defying sculptural masterpieces atop dancing models' heads using nothing more than hairspray, a teasing comb, and the rogue magic of a true artist. Guests will receive complimentary theme-centric hair and body art experiences while enjoying the Belin quartet, DJ John Solarz, and drinks from Court Avenue Brewing Co., Shocktop, and Pearl Vodka.
This year, the professional dance troupe Ballet Des Moines will perform on the same stage as drag queens. The Big Hair Ball tradition unites the esoteric with classic, the wild and irreverent with the subtle and smart. It unites 20-somethings with an art museum. Even more surprisingly, the event is executed primarily through volunteer direction via Art Noir, the young professional member affiliate group of the Des Moines Art Center.
The Big Hair Ball is not a remake of a big city concept. It was born here in Des Moines and belongs to all of us beautiful people. It evolved from the idea that the most universally relevant form of art is personal beautification. It unites every culture and time period in human history. The selection of our hairstyle is a form of art in which we unconsciously create every day. In Des Moines, the hairstylist that gives you a trim on Friday is quite possibly an exalted artistic master on Saturday. This is a rare phenomenon in any city, let alone the heart of the Midwest.
I am so proud to be a part of this beloved community and the event that helped to keep me here.
You can find out more and purchase tickets at desmoinesartcenter.org.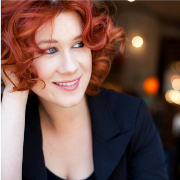 Lindsey Mollenhauer
is a hairdresser of eleven years who is geekily obsessed with creating and curating true beauty. Her independent studio is located inside Gem Salones in Valley Junction. She is the Artistic Co-Chair of the Des Moines Art Center's Big Hair Ball and is an enthusiastic board member and supporter of several community groups.