Trees play a vital role in the multifaceted realm of sustainability. Trees contribute an abundant list of benefits to our communities, including:
Trees purify the air we breathe by absorbing carbon dioxide and other pollutants.
The role trees play in removing pollutants also reduce community water treatment costs.
Trees save homeowners 20% on annual cooling costs and 2-10% on heating costs.
Trees increase property values by 10-15%.
Trees increase business for retailers.
Trees foster safe neighborhoods and reduce levels of domestic violence.
Trees speed healing and nurture positive attitudes for hospital patients.
Trees provide natural habitats for birds and other wildlife, maintaining a balance with nature in urban areas.
This impressive list, sourced from Trees Forever, makes it clear we owe trees a debt of gratitude for their influence on our prosperity, health, basic needs and social vitality.
But what about when trees die? There is a valuable resource in harvesting fallen trees after storms, trees excavated for city planning purposes, trees removed to make room for home additions, naturally dying trees, and trees dying from disease or drought conditions.
Milling urban timber can turn wood destined for the landfill or mulch into high quality flooring, home décor features, furniture or other building and project materials. Besides making use of a neglected resource, urban timber commonly boasts distinctive aesthetic features and gravitating stories associated with the tree's history.
Center on Sustainable Communities (COSC) is hosting an upcoming event that gives attention to this compelling and regularly overlooked aspect of urban forestry. On Wednesday, June 5th at Jasper Winery from 5:00-7:00 p.m., we invite our members, partners and community to join us at COSC connects. Iowa Home Crafters of Ames will give a live demonstration of urban milling and show urban timber project examples.
On June 5th we'll also be wrapping up COSC's "50 By The 5th"Membership Campaign, which has a goal of 50 new or renewed membership pledges. Our nonprofit has several ambitious programs in development, including Best Practices in Energy & Resource Efficiency for Iowa Homeowners, Iowa Deconstruction & Reuse Initiative, Green MLS trainings and a pilot energy efficiency neighborhood program that will unroll this fall with five Green Iowa AmeriCorps members joining COSC's team. COSC Members are essential to the success of our programs and our ability to remain an independent nonprofit.
We welcome Des Moines to learn more about COSC's community initiatives and re-connect with Iowa's trusted educational resource for sustainable programming. Together, we advance sustainability and the viability of the future. Those who join COSC's "50 By The 5th" campaign will be entered in to a drawing for prizes, taking place at 6:30 p.m. on June 5th.
COSC connects is a family-friendly social function offering free admission, complimentary food and a cash bar. RSVP on Facebook, 515-277-6222 or info@icosc.com.
Catering for COSC connects will be provided by Chipotle Mexican Grill, located on Merle Hay Road. Chipotle is a socially conscious fast-food restaurant devoted to sustainability and respect for animals. Additional support of COSC connects is provided by Iowa Home Crafters, Jasper Winery and COSC Members.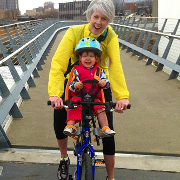 Siobhan Spain
is the Interim Director at the Center on Sustainable Communities. With a family history rooted in Iowa's conservation efforts, Siobhan joined COSC in 2009 with a sense of purpose. Siobhan also serves on the Board of Directors for the Women, Food and Agriculture Network, and is working with her six siblings to revitalize the Spain family farm. She currently lives on the family farm located south of Des Moines with her husband Jonathan DeLima and their daughter Frances.