Greater Des Moines may have been one of my first true loves.
When I decided six year ago to attend Drake University, it was as much for the city as for the school itself. There was that almost indescribable, uniquely Des Moines atmosphere. There was the understated but proud attitude: "Here we are. We like us. We hope you do, too."
As I got used to being away from my own hometown in Illinois, Greater Des Moines took me in with its opportunities and surprises. And when I graduated, I chose it as my home.
The number of young people who have decided to do the same is perhaps one of the strongest testimonials to Greater Des Moines as a great place to live. We stay for the career options, the parks, the food, the nightlife, the Farmers Markets, the access to nature. The list goes on. We stay because of the way it manages to always be dynamic but never overwhelming.
So when I first heard about The Tomorrow Plan, I couldn't help but think about the chance it offers young people in particular. The Tomorrow Plan is truly by all ages, for all ages, but the time between now and 2050 will comprise a large chunk of Millennials' adult lives. Our involvement now will have a direct impact on the opportunities we'll enjoy as time goes on.
It's true; our generation doesn't always get the most praise. We've been painted as arrogant and flighty, at times. But the young people I've met from my time at Drake until now don't fit that mold. They're creative, forward-thinking and truly care about the community in which they live.
Our way of thinking is perfectly suited to this type of project. That and the investment in our futures and those of generations to come are exactly why we should be so involved. Young people tend to be holistically-minded. We were brought up to see connections between seemingly disparate ideas and aspects of society.
We need this mind-set, because The Tomorrow Plan isn't about focusing on one area, but taking a step back and seeing our city for what it is – a complex ecosystem or a machine with moving parts, every aspect connected and reacting to those around it.
Building a better tomorrow means looking at everything at once. For instance, if we improve public transportation, we get better air quality, have more choice on where to live, attract more businesses, have better access to amenities and provide a means for getting around to people in all situations. (And that's just one example).
I think what it comes down to is initiatives like The Tomorrow Plan don't happen every day. Not everyone has such an opportunity to shape the future of their cities in such a hands-on way.
So I call on my fellow young people to jump in. Peruse the website. Play Design My DSM. Attend events. Get in touch with local decision-makers.
I know what made me fall in love with Greater Des Moines and what motivates me to help make it even better. What's your reason?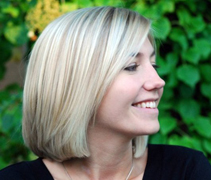 Laura Ippen
is a Sustainability Coordinator for Iowa Health – Des Moines and Iowa Health System and is a member of The Tomorrow Plan Young Professionals Advisory Committee.