"How do you know when you've arrived in Des Moines?"
This was the question posed to David Kruidenier by world-renowned architect I.M. Pei during a drive through downtown Des Moines in the late 1960s. It would stay with Kruidenier through the initial planning stages for the Civic Center in the mid-1970s.
Kruidenier insisted that along with a new performing arts center, there be a central community square, built in the heart of the downtown. Opening in 1979, Nollen Plaza hosted concerts and holiday events, races and rallies, remembrances and memorials. If my informal conversations are any gauge, probably the most remembered event on Nollen Plaza was Seniom Sed (Des Moines spelled backwards), a Friday night gathering centered on music, coming together, and, yes, beer.
Almost 35 years later, Des Moines Performing Arts is preparing to break ground on a multi-million dollar renovation of what is now Cowles Commons in recognition of a significant lead gift from the Gardner and Florence Call Cowles Foundation. The Nollen legacy will live on in the Civic Center's West Lobby.
Waukee native and internationally renowned landscape architect Ken Smith has taken vast community input and designed a space that continues to answer I.M. Pei's question.
The new design reclaims the square as the downtown's community gathering space, with a large "red carpet" area, laid in granite that will host performances, films, festivals, concerts, farmers markets (and a future for Seniom Sed?). There will be tables and chairs, bike racks, food carts and vendors.
New gardens on the north and south, with some 32 new trees and a bevy of native plants will welcome gatherings of all sizes, and provide a lush touch of nature in the urban core.
An energy-efficient, zero-depth fountain will provide interactive fun for families and children, as well as an ambient back-drop for those enjoying lunch or a mid-day read.
And a sculpture by new media artist Jim Campbell will "float" in the Commons with a cloud of LED lights.
Construction will begin this summer with the plan for Cowles Commons to reopen in fall 2014.
As the Director of Development for Des Moines Performing Arts (which operates Cowles Commons as well as the Civic Center, Stoner Theater and Temple Theater), I have had the opportunity to work on this project for more than five years and can sincerely say that I get more and more excited about what Cowles Commons will be for the downtown and for everyone in the community. You will know when you've arrived and I look forward to seeing you there.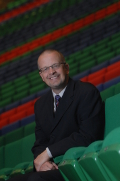 Todd Fogdall
oversees fundraising at Des Moines Performing Arts. For more than 15 years, he has raised money for performing arts organizations; his way of helping to ensure that others can have the same life-changing arts experiences that he has had. He lives in West Des Moines with his wife and two children.