It's not the State of the State, or the State of the Union, but the state of something near and dear to each of us – our food!  We all have it in common, and we each make decisions about it every 3-6 hours (or less for those of us who choose to "graze").  Food and networks that bring food to our plates are currently being studied through the eye of economic and health-related indicators by Ken Meter, President of Crossroads Resource Center (www.crcworks.org) in Minneapolis. Ken presents his findings on Tuesday, June 26 at 8:00 a.m. at River Place in Des Moines.  An open discussion follows along with Q & A.  The underlying goal?  Build connections and next steps toward a sustainable system supporting health and affordable food for Iowans.
In conjunction with Ken's study, six Community Conversations are being held in central Iowa.  The communities are found in the Polk County food shed (or geographic area where our food is grown or produced).  Human, real life experiences within our food network are what we are seeking in these facilitated discussions.  With a diverse attendance, these discussions will help to set community priorities for food as it impacts our local economy and our personal health.
Part of a sustainable community is a sustainable food system that supports the health of community residents.  Baseline information collected in the next weeks will be used to measure if we are moving in the right direction and to help set goals to keep us on course.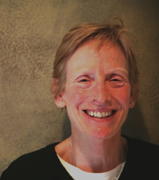 Linda Gobberdiel, RD, LD,
is President of Food and You, LLC and a partner in Health Discovered, LLC. Her work is driven by her passion for food and health. She focuses on supporting and implementing programs and projects that connect Iowans to healthy local food and that build and sustain our local food system. Linda is also a current board member for Tallgrass Grocery Co-op, Past-President of the Iowa Food Systems Council Board of Directors, and a founding board member of the Iowa Food Co-op.