There are so many interesting conversations happening in the Greater Des Moines community – during tech events, at art openings, on our college campuses, at the library – the list could go on. It's hard to get around to all of them, so most of us tend to stick to a couple of core groups. We're talking to the same people and building relationships in our fields of interest. This great momentum makes for perfect timing to gather the community together for TEDxDesMoines, which is happening July 15 at the Science Center of Iowa.
TEDxDesMoines is a cool way to provide a platform for interesting and inspiring people in our community and to bring in some of the leading voices from across the country and the world. We're excited to have Lee Fisher, president of CEOs for Cities, share thoughts on building, advancing, and sustaining the next generation of great American cities. TEDx events also screen several talks from TED.com and provides an outlet for attendees to discuss what they've heard. This year's theme is "The Space Between" and we've planned it as a day dedicated to bridging gaps and making connections.
The beauty of TEDx is its cross-pollination effect. By bringing speakers from diverse disciplines – like scientists and historians and startup CEOs and sculptors – to share a stage, odds are that each attendee will be exposed to ideas completely outside the realm of his or her everyday thinking. And with 300 open-minded attendees, who knows what transformational power an 18-minute talk can hold? We hope you'll join us!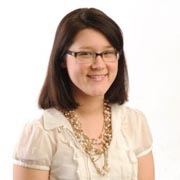 Alexander Grgurich
is a Des Moines native who uses next-generation technology and thoughtful design to solve client problems at
Fresk Interactive
. He's passionate about
big ideas
and uniting the top thinkers across a wide variety of disciplines in order to build community and solve the big problems facing our society.
Brianne Sanchez
moved to Des Moines five years ago and fell in love with the city while writing for Juice magazine. She's now project manager for the
Des Moines "I Have a Dream" Foundation
, an education-based nonprofit, and enjoys weekends filled with bike rides, crafts and a good book.