As The Tommorrow Plan (TTP) is being developed, many of us working on the goals and strategies in the TTP notice how connected the goals are to each other. Today, I would like to focus on Goal #1: Create a Resilient Regional Economy, Goal #2: Improve the Region's Environmental Health and Access to the Outdoors, and Goal #4: Increase Regional Cooperation and Efficiency at All Levels. These three goals converge when we focus on one of Greater Des Moines' best assets and challenges: the trails and park system running alongside our waterways.
Many communities in the Des Moines Metro have made their greenbelt and trail systems a public amenity for residents. The City of Clive is a great example of this with our Clive Greenbelt Trail, including 19 miles of multi-purpose trail running through some of the most picturesque scenery in the Metro, alongside Walnut Creek. The Greenbelt Trail and Park system is the "jewel" of Clive, and many Clive residents are proud of this asset.
While the Clive Greenbelt is an asset, it also creates challenges with the annual flooding the community must combat from Walnut Creek. Over the years, the City has made significant investments in infrastructure along Walnut Creek to mitigate these flooding challenges. Our strategy has been to leverage the storm water infrastructure investments we make to enhance the public amenity of the Greenbelt Trail. Efforts in this area include realigning sections of the trail to provide for a safer ride along the Creek and building park facilities in the Greenbelt that can hold up to rising floodwaters without significant damage.
Many other Des Moines Metro communities deal with similar greenway/flooding challenges. A focus for implementation of the TTP should be to encourage the Greater Des Moines Area to have a regional strategy to help communities 1) incorporate best-management-practices (BMP's) for stormwater infrastructure to lessen the impact of flooding and 2) develop infrastructure in a way where it can be turned into an asset to enhance this Metro's greatest public amenity, our trail system. Some of these BMP strategies could include cities acquiring land along floodways to minimize the impact of flooding on private property, and, through the land acquisition, turn those areas into public parks or native wetland areas to provide additional green spaces throughout the Metro area.
Challenges abound in the TTP, but if we focus on realistic solutions we can turn those challenges into opportunities to enhance the quality of life in Greater Des Moines.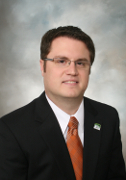 Matt McQuillen
is the Assistant City Manager at the City of Clive. He oversees and manages the City's Capital Improvement Plan and Capital Equipment Plan, provides support for the Public Art Commission, directs and manages the IT and Code Enforcement areas for the City, and is responsible for the City's economic development, serving as the City's liaison to the business community.