When I think of sustainability a lot of things come to mind; stewardship of resources, health and wellness, reuse of materials, neighborhood revitalization.
When I think about neighborhood revitalization I think about Rock the Block™.  Rock the Block™ is a focused housing outreach approach that provides a path for residents, organizations, volunteers and Greater Des Moines Habitat for Humanity to come together to assist low-income residents with needed repair, maintenance, weatherization, safety, accessibility and beautification of homes.
Each Rock the Block™ event occurs in a targeted neighborhood where major rehabilitation and new construction are already underway or planned for the near future.  Hundreds of community volunteers and organizations come together to collaborate and revitalize Des Moines' neighborhoods. You can really see the impact after only three day's time.
I feel lucky to work for an organization like GDM Habitat that takes sustainability seriously.  In addition to GDM Habitat's Rock the Block™ program and new construction there is also a focus on revitalization through rehab housing and housing outreach.  Habitat believes that to truly revitalize a neighborhood and use resources wisely attention must be paid to the current housing stock.  Purchasing bank foreclosures that have become a blight on the community helps to refresh neighborhoods and restore homes to their past glory.
Then there is the Habitat ReStore.  The Habitat for Humanity ReStore sells new and used home improvement materials to the public at discounted prices. All proceeds from ReStore benefit the mission of Greater Des Moines Habitat for Humanity.  The Habitat ReStore also provides a focus on reuse, upcycling, accessibility to green products (i.e. ReWall), and through the donation process diverts thousands of tons of materials from the landfill each year.
I love where I work.
Serving on The Tomorrow Plan Young Professional Advisory Committee, I've come to realize that the young professional's of greater Des Moines are passionate about where they live, work, and play and what our region will look like in ten, 20, or 50 years. I may be one of the few individuals that get to work for a company that promotes sustainability in many different ways, but I know I'm not the only one who looks for ways to address the issues of sustainability in their daily lives.
When I moved to Des Moines nearly five years ago I thought it was a temporary situation, but I fell in love with what greater Des Moines has to offer and I want to make sure we continue to plan for our future.
The Tomorrow Plan has created an amazing opportunity for young professionals (and people of all ages!) to voice their opinions and truly shape our region's future.  Attend an event, share your ideas, or play a game. Whatever you do, get involved because what you have to say truly makes a difference.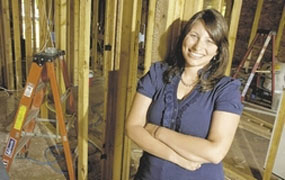 Jenna Nathan
is the Outreach Manager for Greater Des Moines Habitat for Humanity. She is involved with numerous non-profit groups in the metro area, serves on the Art Noir Board, and is a member of The Tomorrow Plan Young Professionals Advisory Committee.