The ability of a region to attract new and retain the workers needed to sustain regional economic growth depends critically on the availability of sufficient competitively priced housing of the types and in locations workers prefer and can afford. As Iowa and Greater Des Moines continue the long-term transition to a service-oriented, knowledge-based economy, the provision of appropriate new housing will significantly influence the ability of Iowa and the Central region including the Greater Des Moines area to accommodate and realize the forecast growth potential.
Estimating Workforce Housing Needed if Recently Released State Employment Forecast Is Realized
According to the employment forecast the Labor Force & Occupational Analysis Bureau of the Iowa Workforce Development Department released in June 2012, over the next decade, the State of Iowa is forecast to add more than 230,000 nonfarm jobs. The Central region, including the Des Moines metro area and Ames and encompassing a total of eight counties (Polk, Dallas, Story, Boone, Jasper, Madison, Marion, and Warren), is forecast to account for 74,300 of the jobs added over the 2010-2020 decade, or nearly 32 percent of total statewide growth. The rate of Central region employment growth is forecast to average 1.6 percent annually, which is higher than the long-term (2010-2040) growth rate forecast by REMI for the Greater Des Moines area upon that Gruen Gruen + Associates (GG+A) relied in preparing baseline projections for The Tomorrow Plan.
Steps Taken to Estimate Workforce Housing Demand Driven by Employment Growth
To estimate the demand for workforce housing associated with the state employment forecast, GG+A used the forecast of new job growth by economic sector to estimate the ages of new workers needed, the characteristics of households in which they are most likely to live, and household income. Identifying the age distribution of the future workforce is an important second step for estimating housing demand because the demand for different types of housing correlates with ages of individuals occupying the housing. To accomplish the "crosswalk" from jobs to housing demand, GG+A analyzed 2010 American Community Survey PUMS data to identify the age, household composition, and income characteristics of Iowa workers.
The age of new workers is indicative of housing demand primarily because of differences in household composition. Younger workers in Iowa between the ages of 25 and 34, for example, are more likely to live alone or reside in a two-person household with no children than are workers between the ages of 35 to 44. Therefore, by estimating the age of new workers needed, we can identify how future workforce growth is likely to be distributed among different household types and sizes. GG+A also converted the number of workers into the number of workforce households by estimating how many of Iowa's existing workforce households contain just one worker; and how many contain multiple workers. Finally, after a forecast of new workforce households by size and type is made, we then utilized the distribution of households by tenure and income to estimate the need for housing by unit type and price (sales price / rent). This also required making assumptions about the affordable price/rent levels for households in each of the income groups.
By making estimates of each component, the end result of the process outlined above is a forecast of housing required to accommodate the needs of new workforce households forecast to be added within Central Iowa, including the Greater Des Moines area over the 2010-2020 decade. These demands are specifically attributed to households that contain at least one member of the workforce. The results provide a basis from which to quantify the numbers of units needed to house the workforce and the type and price of units demanded.
Forecast of Workforce Housing Demand for Central Iowa
Consistent with the geographical distribution of forecast nonfarm employment growth over the 2010-2020 decade, the Central eight-county region including the Greater Des Moines area is forecast to experience the largest workforce housing demands. The Central region is forecast to add approximately 41,500 net new workforce households over the decade, representing nearly 32 percent of statewide growth over the period. This equates to approximately 1.79 workforce households added for each additional job. Almost 55 percent of these net new workforce households in the Central region are forecast to be single- and two-person households.
Approximately 11,300 rental units and 30,200 for-sale units are forecast to be needed to accommodate the forecast growth in employment and workers. Rental units are forecast to comprise approximately 27 percent of future housing demand associated with the forecast increase in employment and associated workers. The majority, or 73 percent, of workforce housing demand is forecast to be for owner-occupied units.
Approximately 34,000 detached single-family units and 7,500 attached and multi-family units are forecast to be needed to accommodate the forecast growth in employment and workers. Of the 34,000 single-family units, approximately 29,600 are estimated to be owner-occupant and 4,400 units rented. Of the 7,500 attached and multi-family units, approximately 600 are estimated to be owner-occupant and 6,900 units rented.
The following table presents the forecast workforce ownership and rental housing demand for the Central region from 2010 to 2020 by price point.

Sources: U.S. Census Bureau, 2010 American Community Survey, Public Use Microdata Sample; Gruen Gruen + Associates.
New workers in the Central region are forecast to stimulate demand for owner-occupied units priced at $290,000 and above.  Approximately 9,560, or 32 percent, of the 30,200 for-sale housing units forecast to be needed are at price points above $290,000. Note, however, just because households could afford to pay more for housing does not mean they will if the housing available is responsive to their needs and preferences.  Approximately 16 percent of the forecast demand for for-sale units is for units priced below $100,000.  Another 13 percent of units are forecast to be demanded between $100,000 and $140,000; 23 percent between $140,000 and $220,000; and 17 percent between $220,000 and 290,000. The majority of rental demand is forecast to occur at low and moderate prices.  Approximately 51 percent of demand, or 5,800 of the 11,300 units, is forecast at monthly rents below $600.
Policy Implications
The forecast of workforce housing demand associated with the state's perhaps aspirational employment forecast suggests that, if the forecast proves accurate, the Greater Des Moines area will experience a significant increase in the demand for housing from workers. Employer-assisted housing programs and policies encouraging the creation and preservation of affordable workforce housing will be critical if the state employment forecast materializes and indeed will be a necessary condition for anywhere near the amount of employment growth forecast to be realized.   Encouraging the rehabilitation and remodeling of existing housing units to be responsive to contemporary preferences will be critical because the real estate economics of new construction for rental and sales products priced at the low end of the demand range will be challenging to be feasibly undertaken without subsidies.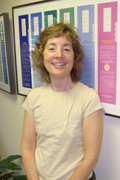 Debra Jeans
is a principal with the urban economics, market research, land use/public policy, and real estate research and consulting and pre-development services firm Gruen Gruen + Associates
www.ggassoc.com
which has contributed research and analysis for The Tomorrow Plan initiative.