A big part of planning regionally is listening to people from all corners of the study area.  Public meetings provide one forum for this—click here to see what we heard at the Future Fair in early August—and more and more, the internet provides another.  Over 200 people have submitted ideas, posted comments, and voted on their preferences on The Tomorrow Plan's MindMixer site since it opened in January.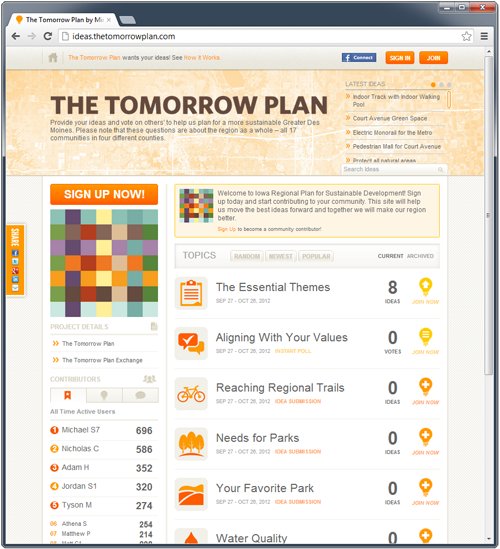 We are pretty excited about what we've heard and are ready to take the next step of integrating many of these citizen ideas into the final plan.  The Tomorrow Team will be weighing options, considering ideas in the context of overall regional goals, and assessing feasibility to determine how to move forward with the many suggestions.  Just to give you a flavor of what we are hearing, some of the most popular ideas on the MindMixer site so far include:
"Rapid Transit System – Development of a rapid transit system (bus rapid transit, light rail, commuter rail, or similar).
Reverse Gentrification – The housing stock in the city of Des Moines has declined, without much care due to the flexibility and growth of the suburbs. Having a developer, or a larger incentive to encourage ownership of older homes would help reverse this trend.
Downtown Supermarket: Think outside the big-box store – Downtown living is great. . . except having to drive to get groceries. There is enough empty commercial space that someone should be able to put in a smaller supermarket to serve the ever-growing number of people who live and work downtown.
Wetlands Reclamation/Flood Mitigation – The area to the NW of Des Moines and the SE of Des Moines is historically flood prone. Crops are lost over and over again. We need to take those areas out of crop production and treat them like the seasonal wetlands they are. Planting them with native plants and allowing them to flood will mitigate the flow through Des Moines and more importantly downstream."
And there are always more good ideas out there!  Take this opportunity to add your voice to the mix.  Go to http://ideas.thetomorrowplan.com to let us know what you think about parks, trails, and water.  Topics of conversation change every couple weeks so check back often so you don't miss any!