Across the country large demographic shifts are currently taking place that will significantly affect future housing demand.  These trends are well documented, much discussed, and certain to have an impact on housing choices throughout the United States, including the Des Moines region.
Household growth data hold many of the clues for the future of housing demand.  Between 1985 and 2000, just over 67% of U.S. household growth was comprised of one- and two-person households.  By comparison the U.S. Census anticipates that as much as 90% of the household growth between 2010 and 2025 may be comprised of one- and two-person households.  In other words, American households are shrinking in size.
Much of this shift is being fueled by Generation Y (individuals born between 1979 and 1996).  Census data from 2009 show members of Generation Y delaying (or forgoing) marriage at much higher rates than previous generations. When comparing marriage rates for ages 18-28 across generations, we see that only 21% of Generation Y'ers are married, a much smaller figure than what previous generations experienced at 29% for Generation X, 42% for Baby Boomers, and 54% for the Greatest Generation.
Generation Y, the oldest of whom turned 33 in 2012, also appears to have a much more pronounced preference for downtowns and other urban neighborhoods, where denser housing types typically predominate. Gen Y'ers prefer downtowns and inner-ring suburbs; they prioritize the ability to walk to entertainment and services; they seek diverse communities; and they value location and community over home.  Within Gen Y there is still significant appetite for more suburban settings, the key being that they want the suburbs to be different – more walkable and with more variety of products.  The Gen Y cohort is well represented within the Des Moines metropolitan area at 25% of the population, exactly in-line with the national percentage. This group is currently helping to drive the strong market for multifamily housing in walkable locations, but it will be interesting to observe the on Gen Y preferences as the group matures to prime home- purchasing and family-rearing ages.
The aging Baby Boomers are another major factor.  As they become empty nesters and eventually retirees, their lifestyle and corresponding housing needs change.  This shift is significant as many of these aging households are becoming increasingly interested in simplifying their lifestyles and place increasing importance on convenience.  The data shows an increasing number of Baby Boomers opting for townhouses, smaller single-family homes and rental apartments; all housing types that are appropriate for town center and urban locations. Recent surveys indicate that nearly half of Baby Boomers prefer to live within walking distance of a variety of services including restaurants, shopping and medical offices.  In Greater Des Moines, Baby Boomers make up 23% percent of the population (relative to 24% nationally), so this group is sure to make an impact on the housing market in the coming years.
Based on the growth in smaller households as well as growing preferences for higher-density housing, it is likely demand for multifamily housing will increase dramatically over the coming decade. While single-family homes will remain the dominant housing type (at over 60% of both supply and demand), multifamily is likely to represent the majority of the growth.  Our research indicates that in Greater Des Moines, multifamily housing (including duplexes, townhomes, and other multi-unit buildings) represents 30% of current supply and 37% of current demand.  This means that the market is currently undersupplied with multifamily units, a mismatch that the private market is likely to address over the coming years, and one that planners would be wise to contemplate today.  The impact that changing housing preferences have on the demand for schools, city services, open space, and transportation are all significant issues that communities will grapple with over the next decade and beyond.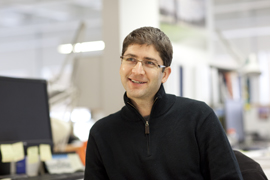 Jon Trementozzi
is the Director of Land Use Economics at Sasaki Associates and a contributor to The Tomorrow Plan's scenario planning process. Jon's role at Sasaki is to define the economic parameters for a range of planning and urban design efforts to ensure that the resulting plans, whether at the site, district, or regional level, are informed by market realities. Jon believes that a comprehensive understanding of market dynamics provides the foundation for the successful implementation of a regional plan.